La celebre Notte degli Oscar si è svolta il 24 febbraio al Dolby Theatre di Los Angeles. I premi di questa 91ma edizione degli Academy Awards, i più prestigiosi riconoscimenti cinematografici americani, sono stati assegnati come sempre dalla Academy of Motion Picture Arts and Sciences, una giuria d'eccezione che riunisce circa ottomila professionisti del settore.
Dopo la rinuncia di Kevin Hart, non è stato ancora ingaggiato nessun conduttore per la serata di premiazione. Per questo motivo la serata è durata decisamente meno tempo del solito, lasciando più spazio agli attori e ai discorsi dei vincitori. Roma e La favorita hanno avuto 10 nomination a testa. A Star is Born e Vice ne hanno ricevute 8, Black Panther 7 e BlacKkKlansman 6. Cinque nomination a testa si sono invece accaparrate Bohemian Rhapsody e Green Book. Ma vediamo adesso chi è riuscito a portarsi a casa le ambitissime stautette di quest'anno.
Miglior film
-Black Panther
-BlacKkKnsman
–Bohemian Rhapsody
–La favorita
–Green Book
-Roma
–A Star is Born
-Vice
Miglior regia
-Spike Lee – BlacKkKlansman
-Pawel Pawlikowski – Cold War
-Yorgos Lanthimos – La favorita
-Alfonso Cuarón – Roma
-Adam McKay – Vice
Miglior attore protagonista
-Christian Bale – Vice
-Bradley Cooper – A Star is Born –
-Willem Dafoe – Van Gogh- At Eternity's Gate
-Rami Malek – Bohemian Rhapsody
-Viggo Mortensen – Green Book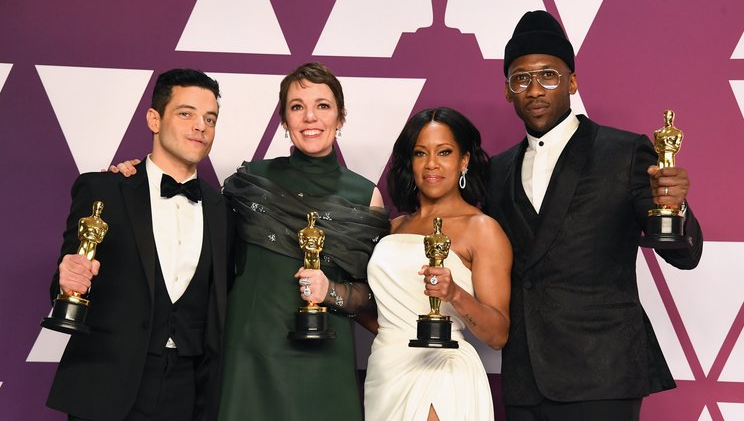 Miglior attrice protagonista
-Yalitza Aparicio, Roma
-Glenn Close – The wife
-Olivia Colman – La favorita
-Melissa McCarthy – Can you ever forgive me?
-Lady Gaga – A star is Born
Miglior attore non protagonista
-Mahershala Ali – Green Book
-Adam Driver – Blacklanssman
-Sam Rockwell – Vice
-Sam Elliot – A Star is Born
-Richard E. Grant – Can you ever forgive me?
Miglior attrice non protagonista
-Amy Adams, Vice
-Marina de Tavira, Roma
-Regina King, Se la strada potesse parlare
-Emma Stone, La favorita
-Rachel Weisz, La favorita
Miglior colonna sonora originale
-Black Panther
-BlacKkKlansman
-Se la strada potesse parlare
-L'isola dei Cani
-Il ritorno di Mary Poppins
Miglior canzone originale
-"All The Stars" – Kendrick Lamar, Black Panther
-"I'll Fight" di Diane Warren, Jennifer Hudson – RBG
-"The Place Where Lost Things Go" – Il ritorno di Mary Poppins di Marc Shaiman, Scott Wittman
-"Shallow" di Lady Gaga, Mark Ronson, Anthony Rossomando, Andrew Wyatt and Benjamin Rice – A Star is Born
-"When A Cowboy Trades His Spurs For Wings" di Willie Watson, Tim Blake Nelson – La ballata di Buster Scruggs
Miglior film straniero
-Cafarnao – Libano
-Cold War – Polonia
-Never Look Away – Germania
-Roma – Messico
-Shoplifters – Giappone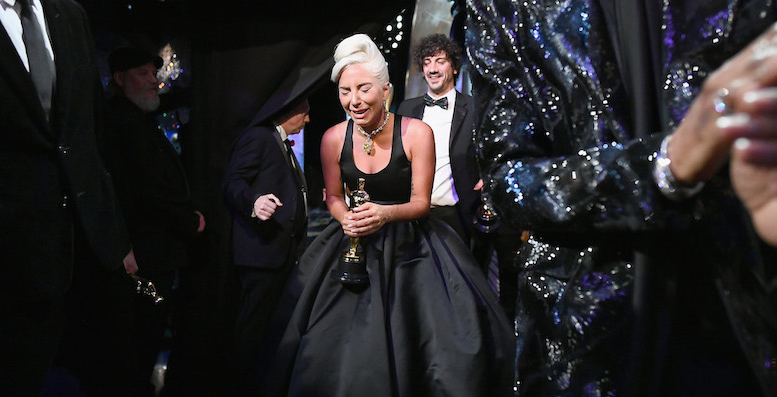 Migliori costumi
-La ballata, Buster Scruggs
-Il ritorno di Mary Poppins , Sandy Powell
-Black Panther, Ruth E. Carter
-La favorita, Sandy Powell
-Maria Regina di Scozia, Alexandra Byrne
Miglior film d'animazione
-Incredibili
-Isola dei cani
-Mirai
-Ralph spacca Internet
-Spider-Man – Un nuovo universo
Miglior cortometraggio animato
-Animal Behaviour – Alison Snowden, David Fine
-Bao – Domee Shi
-Late Afternoon – Louise Bagnall
-One Small Step – Andrew Chesworth, Bobby Pontillas
-Weekends – Trevor Jimenez
Miglior sceneggiatura adattata
-La ballata di Buster Scruggs – Joel Coen, Ethan Coen
-Blackkklansman – Charlie Wachtel, David Rabinowitz, Kevin Willmott, Spike Lee
-Can you ever forgive me? – Nicole Holofcener e Jeff Whitty
-Se la strada potesse parlare – Barry Jenkins
-A Star is Born – Eric Roth, Bradley Cooper, Will Fetters
Miglior sceneggiatura originale
-La favorita -Deborah Davis, Tony McNamara
-Green Book -Nick Vallelonga, Brian Currie, Peter Farrelly
-Roma – Alfonso Cuaron
-Vice – Adam McKay
-First Reformed – Paul Schrader
Miglior documentario
-Free Solo
-Hale County this morning, this evening
-Minding the gap
-Of fathers and sons
-RBG
Miglior cortometraggio documentario
-Black Sheep
-End Game
-Lifeboat
-A night at the garden
-Period. End of sentence
Migliore scenografia
-Black Panther
-La favorita
-First Man
-Il ritorno di Mary Poppins
-Roma
Miglior trucco e acconciature
-Border
-Maria Regina di Scozia
-Vice
Miglior effetti speciali
-Avengers: Infinity War
-Cristopher Robin
-First Man
-Ready Player One
-Solo: A Star Wars Story
Miglior fotografia
-Cold War
-La favorita
-Never look away
-Roma
-A Star is Born
Miglior cortometraggio
-Detainment
-Fauve
-Mother
-Marguerite
-Skin
Montaggio
-BlacKkKlansman, Barry Alexander Brown
-Bohemian Rhapsody, John Ottman
-Green Book, Patrick J. Don Vito
-The Favourite, Yorgos Mavropsaridis
-Vice, Hank Corwin
Miglior sonoro
-Black Panther
-Bohemian Rhapsody
-First Man
-A quiet place
-Roma
Miglior montaggio sonoro
-Black Panther
-A Star is Born
-Bohemian Rhapsody
-First Man
-Roma
Leggi anche: Film da non perdere nel 2019